Bringing clans together to ensure a peaceful referendum in Bougainville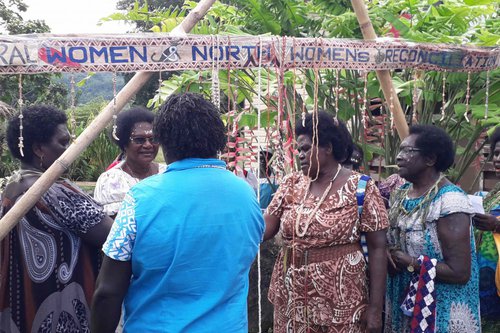 Bringing clans together to ensure a peaceful referendum in Bougainville: Barbara Tanne
In a rural village in the Autonomous Region of Bougainville, Papua New Guinea, WMC member Barbara Tanne is a leader for peace. Working with the village chief and other leaders she mediates conflicts within her community and prevents violence from breaking out. She is also an advocate for women – speaking out against gender-based violence and supporting women survivors. She was also instrumental in helping ensure voting in the 2019 referendum happened peacefully.
"What actually motivated me most [to begin in peacebuilding] was the violence or human rights abused caused to the many women and girls in my community and Bougainville as a whole. I am also a survivor of violence and this is where I get my strength with a motto 'someone has to be strong (resilient) in order to help and support the rest.'"
Barbara is acutely aware of the pain and suffering caused by violent conflict. Working in the Highlands of Papua New Guinea during the height of the Bougainville conflict, she was herself subject to violence and intimidation.
"I went through a lot of harassment, discrimination and threats at that time and as soon as the disarmament and restoration came back to Bougainville, I decided to quit my paying job and travelled back to home to see my family. My dad passed away during the crisis and I had to look after my mum." 
The conflict in Bougainville started in 1988 and lasted for over a decade. During that time different armed factions emerged. A desire for self-determination, land disputes and environmental damage related to mining all helped fuel the conflict. In total up to 20,000 people lost their lives. A peace agreement was signed in 2001, which granted Bougainville autonomous status, and also stipulated that there would be a referendum on Bougainville's political status.
"It was horrible listening to the storytelling of the men, youths and women of their experiences during the Bougainville Conflict. Every day of my life back home was just listening to different stories that came with a lot of hurt and guilt hearing from women and girls who were subject to sexual violence during the conflict."
After hearing how people, in particular women and girls, had been affected, Barbara decided to dedicate her life towards working for peace. As well as her mediation work, she also now works with a number of other organisations including the Nazareth Centre for Rehabilitation, Women, Peace and Security Technical Working Group and as a consultant for Conciliation Resources. As a member of Women Mediators across the Commonwealth, she runs peacebuilding analyses, training and reconciliation sessions. 
As part of her work, Barbara was able to play a pivotal role in preparations for the 2019 Bougainville referendum, helping to ensure that the referendum vote took place without violence. Over the course of nine months, Barbara and her small team worked with three main clans and nineteen sub-clans, totalling twenty-two groups. Prior to beginning her work, fifteen of these had land disputes. 
Despite numerous obstacles, Barbara and her team held meetings and peace dialogues with the conflicting clans. Eventually, these led to agreements from all twenty-two groups to put aside their differences and reconcile for the sake of a peaceful referendum vote:
"We held a peaceful reconciliation based on our 'tradition'. I will always owe this to my team, my chiefs and the people from my constituency."
In the referendum vote, almost 98% of voters backed independence, with just over 2% voting to remain part of Papua New Guinea with 'greater autonomy'. This vote marked a key moment in the Bougainville peace process, but did not mark the end of the process. As things move forwards in the post-referendum period, Barbara believes peacebuilding is vital for Bougainville:
"To me personally, peacebuilding is very important to help reintegrate and reconcile the people of Bougainville – particularly the veterans, women, youths of the crisis, chiefs and leaders of Bougainville and Papua New Guinea. It is also important for the development of individuals in rebuilding Bougainville to be a peaceful nation, and for our young generation who were born from survivors of the crisis – many of whom are still living with trauma of the crisis."
Ultimately, her simple hope for Bougainville is for it to be a peaceful nation:
"Peace is actually the foundation for development – be it in persons, health, education or social life. I hope for a developed Bougainville with peaceful people, like before the Bougainville Crisis."
Read the original article here.
Image: Peace dialogues at the Women Leaders Forum in Bougainville © Barbara Tanne