Championing the next generation of women mediators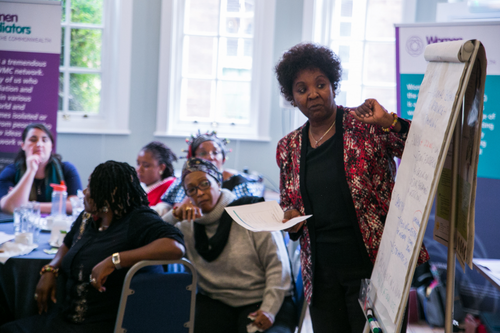 Championing the next generation of women mediators: Florence Mpaayei
It was witnessing the devastation of the Somalia conflict that convinced Florence Mpaayei she wanted to become a peacebuilder. Living in neighbouring Kenya, she felt the ripples of unrest that spread throughout the region in its aftermath, including the Rwandan genocide.
At the time she was working to support some of the hundreds of thousands of refugees arriving from Somalia and Rwanda and seeing their desperate situation and the suffering of those left behind, especially women and children, made her want to get more involved in peacebuilding work:
"Interacting with the women refugees who were eager to see peace return to their countries, and seeing them try to influence the peace talks and create links with their fellow women inside the conflicted countries, affirmed my conviction that women were at the heart of matters of peace and security in their countries."  
Today, after twenty-five years working in peacebuilding, Florence exudes confidence. But this was not the case when she started her career. There were very few women that were visible in the peacebuilding field, especially at a national level. This meant that she learnt as she went along, driven by her conviction that conflicts can be resolved non-violently without the loss of lives:
"My involvement in community peace work brought me face to face with courageous women peacebuilders, who were transforming their communities and restoring peace. This strengthened my resolve to work for peace."
When violence broke out in Kenya in 2007 during the electoral crisis, Florence became involved in the peace process in her own country. Keen to see her country taken back from the brink of war, she took a lead in facilitating sessions that saw the Kenyan women unite in a common agenda that was presented to the panel mediators.

Supporting local women peacebuilders is something Florence continues to do today. As a member of Women Mediators across the Commonwealth (WMC), Florence is now advising Garissa Women for Peace, a community-based organisation designed to sustain the leadership of women in peacebuilding in Garissa County. Together they develop ways to overcome conflicts in their communities, as well as engage with the county and national governments. 

Florence hopes her involvement with WMC, a network of 49 women mediators from around the world which is supported by Conciliation Resources, can also ensure fewer young women peacebuilders experience the isolation she did when she started out:
"For those of us who have been in this field for longer, WMC has created a useful space for us to mentor and also encourage young women mediators in whatever stage of their career and in whatever conflict they are working on. Being able to make sure that we are building a reservoir of young women peacebuilders that are knowledgeable and skilled is very important in the overall scheme of sustaining peace globally". 
Florence believes the situation has improved for women since she started out as a peacebuilder, with a growing awareness and evidence of the value of including women in peace processes. But there is more to be done, and an important role for men to play in increasing women's participation:
"We exist in patriarchal societies where the structures and systems favour one gender over the other.  Women are involved in every sector of life in a country and are half the population. Peace processes should therefore be alive to this fact and see the great value of the involvement of women in peace processes at all phases for the posterity of their countries.  
I am constantly trying to build alliances with like-minded men who value and see that a country cannot move forward if half of its population is not involved. When male counterparts are convinced, I think we will see much more progress in the women peace and security agenda and more inclusion of women in peace processes."
In 2021 Florence Mpaayei was selected to join the United Nations' Standby Team of Senior Mediation Advisers. All the views expressed in this article are Florence's own and do not necessarily represent the views of the United Nations.