New report examines how to create enabling environments for women mediators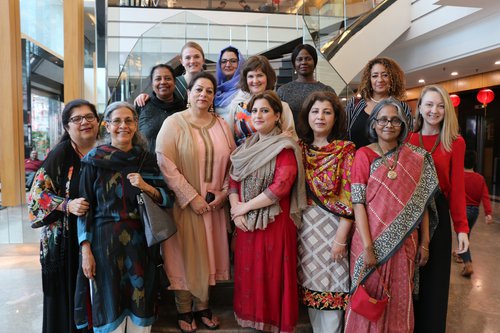 New report examines how to create enabling environments for women mediators
The Women Mediators across the Commonwealth (WMC) network and Conciliation Resources have published their second joint report, Beyond the Vertical: What Enables Women Mediators to Mediate. The report asks: what are the enabling factors that contribute to the meaningful inclusion and recognition of diverse women in peace mediation?
This report follows the first piece of joint research published in September 2020, Women Mediators: Bridging the Peace Gap, which highlighted the diverse and vital contributions to peace made by women mediators, and presented key challenges faced by women mediators.
Beyond the Vertical: What Enables Women Mediators to Mediate, builds on the findings of the previous publication to focus on the question of how to better create enabling environments for women mediators. It asks specifically: what are the enabling factors that contribute to the meaningful inclusion and recognition of diverse women in peace mediation? By examining cases that have (1) facilitated the meaningful inclusion of women in mediation processes, (2) contributed to developing women's careers as mediators, and (3) promoted recognition of women's roles in mediation across various mediation spaces, these enabling factors can inform good practice in this field.
Appoint the women and train the men Sanam Naraghi Anderlini, WMC Steering Committee member
Women are still far underrepresented in peace processes despite commitments made internationally. Drawing from the experiences of WMC network members and other key stakeholders, this report demonstrates the mix of factors that can create enabling environments for women mediators. In sharing this report, the WMC Steering Committee call on the international community to take forward the recommendations in this report, appointing women into processes, and providing the enabling environment for them in all spaces of peacebuilding. These actions are not just for women mediators, but highlight a necessary rethinking of the mediation space more widely. As WMC Steering Committee member Elizabeth Solomon explains:
"There is an inconsistency in the approach to training mediators and peacebuilding practitioners. Women seek and are encouraged towards further training to gain legitimacy, yet the same is not required of their male counterparts. Peacebuilding initiatives would improve if male mediators were encouraged towards training on a variety of topics, including on gender and topics typically stereotyped as 'women's issues'."
Other enabling factors include regional and local networks, positive visibility, intergenerational collaboration, effective peer-to-peer learning, flexible funding, responsive donors, and supportive and inclusive institutional cultures. A complex mix of these is needed for substantive enabling environments for women mediators.
The report highlights both the immense value of women mediators in community spaces, as well as the urgent need for their greater inclusion in formal mediation processes. Findings also indicate that in the context of a global pandemic imposing multiple restrictions to freedom and access to resources, women have borne the brunt of these restrictions, while continuing to be at the forefront of peacebuilding and conflict prevention. The rise of digital communication platforms has enabled women mediators to connect with one another more frequently – connections made more imperative by the increase in gender-based violence globally and other lockdown-induced gender discriminations. However, it has also excluded those without easy and affordable internet access.
This report presents a series of recommendations for international and regional organisations, national and local governments, international non-governmental organisations (INGOs) and NGOs, and regional networks of women mediators. Download the full report here.
Image: WMC members at WMC training in Kualalumpur, Malaysia. © Conciliation Resources
This publication has been funded by the UK Government Conflict, Stability and Security Fund. The views expressed and the information contained in this document are not necessarily those of, or endorsed by, the UK Government which can accept no responsibility for such views or information or for any reliance placed on them.